Fotii Volodymyrskyi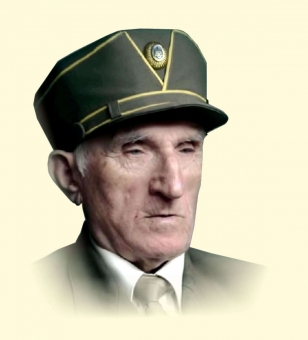 Fotii Volodymyrskyi (Ukrainian: ФотійВолодимирський ) was born on September 1, 1924 in Vyshnevets village, Zbarazh district of Ternopil region. At the age of 19 he joined the ranks of the UIA, where he was assigned to the sotnia of "Chip" under the pseudonym "Muha (the Fly)".
In June of 1943, he was shot in the arm and leg for the first time during the fight with the Germans in Kolodne village (near Zbarazh). After the medical treatment he worked at the Security Service of the District. In 1944 he was sent to gendarmerie of the kurin "Nalyvayko". During the World War II he fought as a member of the UIA in Volyn and Lviv regions. Then his kurin was sent to Kholmshchyna to fight against the Polish Home Army, which terrorized the Ukrainians, who lived there. They crossed the front line and in August of 1944 they returned to Volyn. And again they made a raid in Volyn and Lviv regions, where in December of 1944 Fotii Volodymyrskyi was wounded in both legs by a grenade in Nyvytsi village of the Radehiv district.
---
He was being treated but on March 13, 1945 he was caught by the NKVD (The People's Commissariat for Internal Affairs). He spent the whole year on remand in prison in Lopatyn (Lviv region). After this he was sentenced to 10 years` imprisonment. He served his imprisonment in Komi Republic in Inta. After the end of the "serving the punishment" he had no right to return to Ukraine, so for 23 years he was working in the coal mines of Inta.
Since 1990 Fotii Volodymyrskyi was in the ranks of the OUN-UIA Brotherhood. In 1994 he was elected as the Chairman of the OUN-UIA Brotherhood of the Carpathian region.
He was a tireless fighter for the independence of Ukraine.
board_info
Address: 46 Lepkoho str.
date: Monday, 30 November -0001