Osyp Sorokhtei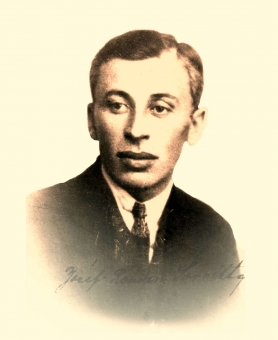 Osyp-Roman Yosafatovych Sorohtei (Ukrainian: Осип Сорохтей), (*February 28, 1890, Baranivtsi village (Baranchychi), Sambir district of Lviv region - † November 28, 1941, Stanislaviv, now Ivano-Frankivsk) – a Ukrainian painter, graphic artist, cartoonist and a teacher.
Biography
His father, a Czech by nationality, was a railroader in Galicia. His mother was of polish descent.
After his birth the family moved to Stanislav. Soon his father died at work. In Stanislaviv Osyp grew up without his father.
During his childhood he used every opportunity to draw. He even ran away from school to the suburbs where his teacher lived - a failed artist and painter, but the best teacher.
1910 - Osyp Sorohtei graduated from the Teachers' Seminary in Stanislaviv.
1911-1914 – he studied at the Krakow Academy of Fine Arts (he was enrolled there as a Ukrainian).
1914-1918 - during the First World War he was on the front in the ranks of the Ukrainian Sich Riflemen Legion. He was a participant of liberation struggle.
1919 – Osyp resumed his studies in Krakow Academy of Arts (he was taught by Yu.Pankevych, V.Vays et al.).
Having graduated the Academy he worked as a teacher of Art in the Gymnasiums of Stanislaviv (1920-1926, 1929) and Sniatyn (1926-1928).
He collaborated with the satirical magazine "Zyz" (1925). Osyp Sorohtei was a member of Ukrainian Association of Independent Artists (Lviv).
Creative work
He used mainly drawing and watercolors technique, less oil technique. His works are full of expression: graphic portraits (T. Shevchenko, I. Kotlyarevskyi, I. Franko, Ye.Hrebinka, M.Mentsynskyi, Marko Cheremshyna, S.Krushelnytska, S.Lyudkevych, self-portraits, etc.), Carpathian landscapes, still life paintings, socio- household paintings ("In the garden", "Meeting", "Driving hay", "Chopping wood", "Disabled", "Unemployed", " The street is paved", "At the Blacksmith`s", "Flyman", "Plasterers," etc.) and historical genre paintings ("The troop is going into battle", "Prince's town", "Cossacks during the campaign", "Bandura player", etc.), religious songs (Series of Christ's Passion), numerous caricatures of Ukrainian Sich Riflemen and their officers, teachers, religious, cultural and public figures ( bishop H. Khomyshyn, M.Rudanskyi, O. Nowakivskyi, V. Barvinskyi, I.Boberskyi et al.), illustrations for books by A. Toto-Doloto "The Life and Adventures of Tsyapky Skoropada" (1926).
He participated in many exhibitions, including the II International Carving Exhibition in Warsaw (1931).
Posthumous retrospective exhibitions of Osyp Sorohtei works were in Stanislaviv (1942) and Lviv (1970).
In total there were found more than a thousand of his works. They are presented in Lviv Art Gallery and Ivano-Frankivsk Art Museum.
The source: http://uk.wikipedia.org/
board_info
Address: 43 Sorokhtei str.
date: Friday, 12 September 2014