The annotative memorial plaque to Stepan Koval was opened in Mykytyntsi village
Monday, 9 June 2014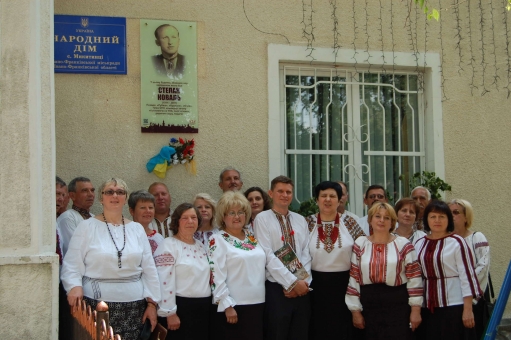 On June 8 an annotative memorial plaque, initiated by the Head of the Svoboda party in Ivano-Frankivsk City Council Roman Onufriiv, was opened to Stepan Koval - the commander of the group "Kotlovyna" of the UIA, the political prisoner, the conductor of the people's amateur choir "Pervotsvit (the Primrose)" - at the District Culture House in Mykytyntsi. The memorial plaque is placed within the frameworks of the program "Ivano-Frankivsk – the city of heroes."
There have already been placed 5 annotative plaques to the Ukrainian heroes and famous figures within the frameworks of the program "Ivano-Frankivsk – the city of heroes," initiated by the People's Deputy of Ukraine Ruslan Martsynkiv. It is remarkable that a memorial plaque to Stepan Koval is placed at the facade of the People's House in Mykytyntsi village. In fact, after the persecution of the Soviet power, Stepan Koval changed his name and worked as a director of Stanislaviv House of Culture, which is geographically placed in Mykytyntsi village (75a Zarichna st.). The people's amateur choir "Pervotsvit (the Primrose)", headed for a long time by Stepan Koval, goes on its active creative work in Mykytntsi village until now.
Roman Onufriiv stressed out that honoring and promotion of famous Ukrainians, heroes of Ukraine is an extremely important matter after the century-long mutilation and distortion of historical facts. "The Ukrainian history has undergone significant impacts under the yoke of the Soviet Union. Even having gained its independence, our country has not gained its freedom. We are still fighting for it. The previous government radically moved our history, treated our national memory cruelly. Therefore, many significant figures are unknown or little known to ordinary Ukrainians. These annotative memorial plaques carry out this mission", said Roman Onufriiv.
The historian Rostyslav Handzyuk said: "Stepan Koval is an interesting and significant figure. From a young age he was an adherent and later the cornet of the UIA. He was persecuted for his participation in the Organization of Ukrainian Nationalists. In order to save his life and his family he changed his surname and was engaged into an active cultural work. Since 1949 he was the conductor of the people's amateur choir "Pervotsvit" at the District Culture House in Mykytyntsi."
"Most importantly, it should be noted that the great man began his path of life in the village or returned to it and did there their small but good deeds. Let the figure of Stepan Koval serve as a good example", said the deputy.
After the memorial plaque was consecrated the amateur choir "Pervotsvit" and other amateur groups of the village song atthe opening ceremony.