Emil Mikulets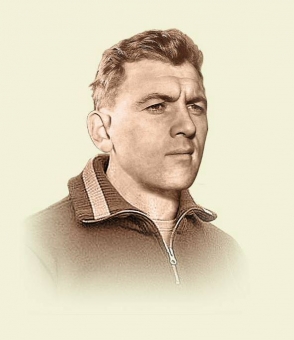 Mikulets Emil Petrovich is an outstanding footballer, goalkeeper of FC Spartak (Ivano-Frankivsk), FC Spartak (Moscow), FC Dynamo (Minsk), coach of PJSC "Prykarpattya", master of sports in football.

He was born on February 12, 1936 in the village of Bushtyno of the then Czechoslovak Republic. A life-long journey brought the family back to Stanislavov, where the young man took up this extremely promising sport. From the very beginning, Mykulyats' game was a goalkeeper.
Mikulets is a pupil of Spartak Club (Stanislav). He made his major team debut in 1953 and spent two seasons on the team.
In 1955 he left for Moscow and joined the local Spartacus. Mikulets spent 2 seasons in the Moscow team, having played 13 league matches and 3 matches in the USSR Cup, missing a total of 14 goals. Mikulets also played 8 matches for the doubles squad, having missed 4 times.
In 1957, Mikulets moved to Minsk. There he spent 1 season, having played 14 matches in the championship and the cup of the country, after which he returned to Moscow "Spartak", for which he played 5 matches for the base and 17 matches for the double "red and white".
After that he returned to Stanislavsky Spartak, where he performed until the end of his career in the second league of the USSR Championship.
Since 1997 he worked as a coach in the football school "Prykarpattya" Ivano-Frankivsk.
Mykulyats' main achievements were: USSR Champion (1956, 1958), USSR Silver Medalist (1955), USSR Cup Winner (1958).
Emil Mykulets died on June 22, 2000 in our city of Ivano-Frankivsk.
board_info
Address: Chornovil st., 128
date: Saturday, 25 May 2019