Ivan Lutsky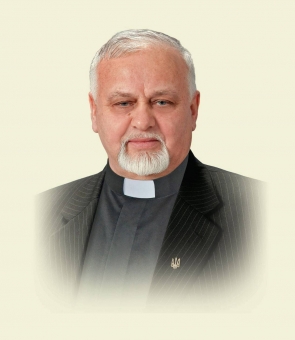 Ivan Mykhaylovych Lutsky (March 7, 1949, Bodnariv - May 16, 2014, Hungarians) is a Ukrainian law specialist. Doctor of Laws, Doctor of Philosophy, Doctor of Canon Law, Metropolitan Protopresbyter. Honorary Academician of the Academy of Higher Education of Ukraine since 2010. Dissertation for the Doctor of Law Degree "Christian Doctrine as a Worldview Source of the Ukrainian State and Law", specialty 12.00.12 - Philosophy of Law.
He was born in Ivano-Frankivsk region. He graduated from the 11th grade of Snyatyn secondary school (1967). He studied theology at the Leningrad (now St. Petersburg) Theological Academy (1968-1974). He graduated from the Yaroslav the Wise Kharkiv National Law Academy and received his law degree (1998). He studied at the Western Exarchate Scholarship at the Ukrainian Free University in Munich, after which he received his Ph.D.
He defended his PhD thesis "Justice as the philosophical and legal basis of Ukrainian state formation", specialty 12.00.12 - Philosophy of Law (2005). Has the rank of associate professor. At the International Academy of Personnel Management and the Open International University he received a PhD in Law (subject: "Problems of State Antitrust Regulation of Market Relations" 2000).
Since 1997 he has been working as the Rector of the Ivano-Frankivsk Institute of Law, Economics and Construction of the Ukrainian Academy of Sciences (in 2007 the institution received the status of a university, renamed it Ivano-Frankivsk University of Law named after King Danylo Halytsky).
board_info
Address: Konovalets st., 35
date: Thursday, 7 March 2019