Volodymyr Nesterenko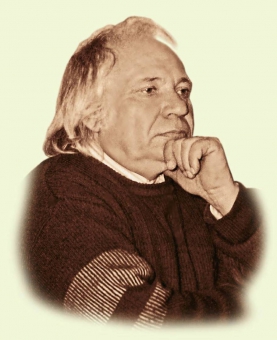 During 1962 - 1987, he worked as a director of the Ivano-Frankivsk musical drama theater and, for a short time, the director of the Transcarpathian theater in Uzhgorod.
Performances by Vladimir Mikhailovich have always been marked by a clear ideological position and an interesting artistic solution. During his years at the Ivano-Frankivsk theater, he staged over 70 plays. Among them are M. Starytsky's Wicked Fate, J. Strauss's "Flying Mouse", I. Tobilevich's "Unflagged", I. Franko's "For the Home", "Memory of the Heart" by O. Korniychuk, O. Gorlitsa. Kolomiyets, "Far windows" V. Sobka, "Troy" V. Larchenkova, "Country Aigyul" M. Karim, etc.
In particular, the prizes of the Ministry of Culture of Ukraine and other high state awards were awarded for the production of the plays "Gorlitsa", "Terrible vengeance", "Far windows", "Krayina Aigyul", "Beztalanna" directed by Vladimir Nesterenko.
Established in 1968 in conjunction with the director of the Ivano-Frankivsk theater, People's Artist of the UkrSSR, Vitaliy Smolyak, and Vladimir M. Mikhailovich, headed by the acting studio at the theater, he trained a whole galaxy of actors who are proud of the Ukrainian theater and the Carpathian stage. Among our pupils are our current coryphaeus: People's Artist of Ukraine Oleksandr Shymansky, Honored Artists of Ukraine Zhanna Dobriak-Gotvyanskaya and Anna Babynska.
board_info
Address: street Khotynskaya, 9
date: Monday, 30 November -0001